BOUVEAU CONSULTING: THE BOFC EXPERT
As a CFO, or responsible for the consolidation, you expect from your consolidation and reporting tool to deliver in time and according to your expectation.
From your experience you have rarely the chance to say "I never had any issue with the operation of my SAP BOFC application"
All kind of issues can commonly arise when operating the application:
Delays,
Instability,
IT organization,
Mishandling,
Inadequacy with requirements,
Specific or overall satisfaction issues...
Based on an 18 year exclusive experience in all facets of the suite of Consolidation products of the company previously named CARTESIS and recently bought by SAP, Bouveau Consulting is able to deliver the full suite of functional and technical services around SAP BOFC (ex CARTESIS MAGNITUDE), especially around:
Performance,
Architecture,
Technical audits,
Solutions,
SQL rules,
Education of IT,
Enhanced maintenance and migration

A well performing tool is flexible and delivers quickly with high quality what we expect from it, with minimal effort from the whole users community
About Performance
Performance is not only a matter of Response times. We can identify 5 main dimensions that help identifying the performance of your application:
Data Quality
Response times
Ergonomics
Appropriateness to requirements
Maintainability
And to enhance performance by acting on these 5 dimensions, we have in our toolbox 5 levers as well:
Parameterization
Platform
Process
People
Product
How Bouveau Consulting can help
Bouveau Consulting propose to help you in your willingness to enhance the performance of your consolidation and reporting tool. (Do nothing is surely let your application getting worse with time).
Quick audits allow you to sort out the impact between design and platform on your data quality and response times. Recommendations sorted by cost/efficiency trigger fast, and sometimes very visible results.
Accompaniement on a long term basis, setup of performance enhancement objectives, and follow-up using a strong methodology that your teams will use.
Sharing the benchmark and experience on other Groups performance.

Bouveau Consulting can develop BOFC integrated Solutions allowing to simplify the process, enhance the capacity of the tool to answer to requirements, in short enhance the global performance of BOFC
You are trying to enhance the intercompany your reconciliation process,
RECOLIVE! is an add-on allowing you to see in real time the intercompany declarations made by your partners, directly in the data entry package, and converted into your own currency, or the consolidation currency, to facilitate the matching calculation. The setup of this add-on is very simple, and can be made operational in few hours.
LOCK is an add-on allowing you to partially, simply and dynamically block your packages, as an example when intercompany reporting must be locked and other data in packages still being modified. Lock allows you to also update on the fly the level of controls to reach.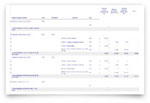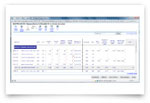 Bouveau Consulting already proved its efficiency working with large Holdings, part of the french CAC40 and in Germany
Performance Audits : THALES, BNPPARIBAS, SANOFI, SAFRAN, ALSTOM, VINCI
Technical expertise to IT teams, accompaniment, architecture and migration : GROUPAMA, ALSTOM
Architecture and installation : GAZPROM (Germany), HERAEUS (Germany), STORZ (Germany)
Solutions: Recolive! was sold to DANONE, REXEL, GROUPAMA, THALES, MONNOYEUR, GAZPROM, BOLLORE, SANA KLINICS...

An application such as BO FC get inexorably worse if one doesn't take care of it on a regular basis.
The requirements of a good maintenance
You expect your application and your platform to last and
operate as well as possible every day.
You prepare a migration of your platform, product or design and you want to control and master the performance objectives.
You intend to start a BOFC design project and you want an independent input on quality, objectives, and ensure an optimal efficiency of your targeted platform and application
You want to enhance the relationship between the IT team and the final client, using a common language to share the objectives.
The BOUVEAU CONSULTING Approach
Issue of a performance requirement book before a migration or an integration project.
Expert coaching during projects or operation of the application.
Training of the technical or IT teams
(open the hood to understand the application)

BOUVEAU CONSULTING and its partners
BOUVEAU CONSULTING
42 route de saint Romain
F-69660 Collonges au Mont d'Or
Tel : +33 9 50 35 53 70
Mobile : +33 6 29 244 002
7, Cité Paradis
75010 Paris
Rue du Cendrier 15
1201 Genava (Switzerland)
Blumenstr. 2
97941 Tauberbischofsheim (Germany)